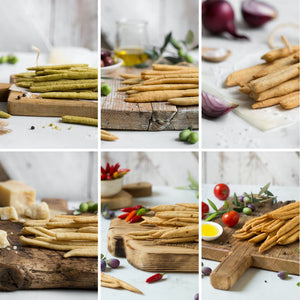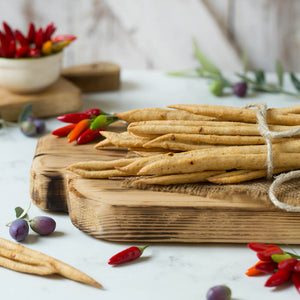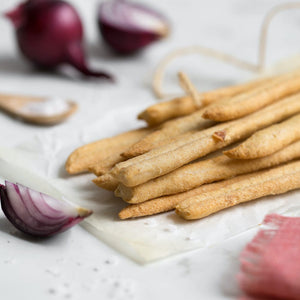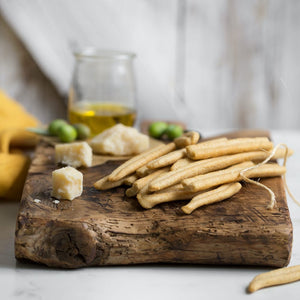 Grissini Tasting (6 Flavours)
Simple like bread but inventive as there's a new way of enjoying them. At the very beginning, making breadsticks was no easy task. It took much more than just the skilful hands of the baker to make good Grissini. The Stiror used to pull the dough, the Tajor was in charge of cutting it, the Coureur was the one who baked them, and the Gavor had the honour of taking them out of the oven. The result of such an effort was as natural as it was delicious. Who hasn't munched breadsticks at a restaurant while chatting with friends, waiting for the meal to arrive? That's why our Grissini deserve to be the star of your table. We make and pull them one by one to wow you with their traditional and unique taste, perfect for any occasion.

Olive oil
Grissini From humble homes to royal palaces, no one can resist grissini. The legend says that Napoleon established a courier service for what he called les petits bâtons, to be sure he was never left without. Whether you eat them for breakfast, a snack, before or after dinner, our olive oil Grissini can be enjoyed any time of the day. Wrap them in a slice of PDO Parma ham for a delicious, traditional snack or pair them with fresh,hard cheese, onion compote or our sweet jams, such as pear and fig jam.

Cheese Grissini
Two Italian gastronomic benchmarks are better than one. That's why our Cheese Grissini with Parmigiano Reggiano will be the star of your aperitifs with friends. Versatile, practical and scrumptious, Cheese Grissini are ideal for a quick snack wherever you are. Enjoy them with a glass of wine, e.g. Franciacorta Brut, or serve them with our pumpkin compote. And if you want to amaze your guests, why not create a basket with some Cheese Grissini. You can then put a few slices of your favourite cold cut in the middle for a guaranteed wow effect.

Onion Grissini
In the Middle Ages, onions were so important that people would pay their rent with them or give them as gifts. Luckily, today, we can enjoy them whenever we want as they are in abundance. We associate bread and onions with the simplest thing possible. However, how can you resist them? Serve our onion Grissini with a tuna mousse. But remember: one leads to another, so make sure you have enough stock in the house.

Erbazzone Grissini
Erbazzone is a savoury tart made with herbs. In the old days, this dish was referred to with a dialect expression scarpasòun (from a part of the chard called scarpa, i.e. shoe). Our Erbazzone Grissini combine two major traditions. After all, who wouldn't want to have an Italian (Reggio Emilia) gastronomic speciality to hand? You can enjoy them alone for a unique happy hour or a delicious snack. Recipe for a relaxing evening: Erbazzone grissini, the sofa and your favourite TV series.

Pizza Grissini
There are words that travel around the world and, in any town on the planet, have the same meaning, evoking the same image and reminding us of the same, unmistakeable taste. One of these words is undoubtedly 'pizza'. Not just a dish but a genuine phenomenon loved by people of all ages, at any time of day and in any season, it never tires of evolving and 'dressing' in new styles. Our Pizza Grissini are an appetiser with the distinctive flavour of a freshly baked Margherita. Excellent on their own, or even more appetising when combined with your favourite toppings: mushrooms, artichokes, or whatever you fancy (we recommend enjoying them wrapped in a slice our Prosciutto di Parma: tasting is believing).

Chilli Grissini
Symbolising good fortune and passion, blood-red and fiery: the unmistakeable shape and many, countless beneficial properties of chilli peppers have made them a talisman that has endured through the centuries. To this day, the cornicello (little horn) is a charm given to loved ones to bring well-being and good luck. With this same wish, we bring you our Chilli Grissini, with just the right amount of spice: try adding them to a tomato sauce, ricotta, soft cheese, dip or preserve... or succumb to temptation and taste them on their own!

It may contain traces of SOYA, NUTS, MILK, EGGS and SESAME.

Keep away from light and heat sources.

For ingredients and nutritional values, visit the individual product pages.


---